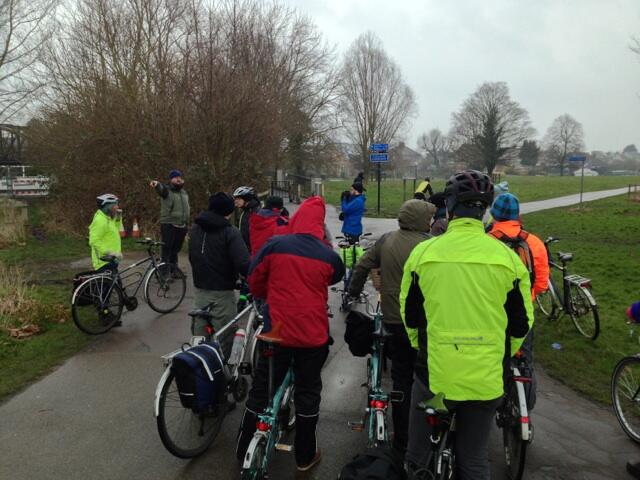 I went on a 'Cycling Infrastructure Safari' around Cambridge yesterday hosted by the Cambridge Cycling Campaign. There was an interesting mix of cycle campaigners and bloggers from across East Anglia and London there. It was an interesting day despite the bitter cold and snow.
During the ride around the highlights of Cambridge's cycling infrastructure I kept having the same thought, why are we avoiding the main roads? We went right around Cambridge from the Station to Milton Country Park, the William B Gates Building and through the city centre, 17 miles in all, yet only perhaps 1/2 a mile of that was on main roads. It showed that the Cambridge Cycling Campaign have been very successful in opening up this secondary network of routes, using side streets, cut-throughs, the riverside and so on. It would not be possible to circumnavigate Ely on such a secondary network. I can't argue that Cambridge has a well developed secondary network, but as they admitted at the end, their main roads are as undeveloped as anywhere else in the UK.
This is important because:
Even a good secondary network can only get modal share to a certain point. 

I am not sure the secondary network approach is transferable to other places (inc. Ely and East Cambs).
Limits of a secondary network
As highlighted quite well here a secondary network has certain flaws.
Firstly it's not a single network it's a patchwork of smaller networks sliced up by the main roads. Crossing these main roads becomes an issue in it's own right. This was nicely highlighted a couple of times yesterday. We were shown a few innovative crossing points, which were great but kind of missed the point. They were like a scaffold that allowed you to get over the elephant in the the room.
In some cases these crossing points required you to "approach them correctly".  This phrase was actually used at one point when a group of us, being led by one of the locals, went 'the wrong way' and didn't come up to the wide toucan crossing on Newmarket Road we were going to see. In this case 'the wrong way' was going straight along Sturton Street and Occupation Road rather than taking the not very obvious right turn into Abbey Walk.
This highlights the second issue with a secondary network. The routes are not the direct, obvious ones. These direct obvious routes are the main roads, which only became the main roads because they are the best routes to the important places. Routes on a secondary network are out of the way, circuitous and require local knowledge to navigate them. To use them well you have to be like a London cabbie and learn 'the knowledge'. This is a big hurdle to increasing modal share.
Note: Cambridge Cycling Campaign are attempting to get the road space re-allocated in the Occupation Road area mentioned above, see letter and comments below.
Is the Cambridge Model transferable?
My other thought while riding around yesterday was would this work in Ely and if not, why not?
I came to the conclusion that Cambridge has a special feature that most places do not, the commons. These are several large green swathes of common land that extend virtually to the centre of the city. There a string of them along the river which allows for a huge amount of secondary network provision. A fair proportion of the route yesterday was along the river. Far more than on the main roads. It was (or would have been without the driving snow) very pleasant. This space has been exploited very well to give some useful routes.
However, most places, including Ely, do not have this kind of useful space. In most places this land has been built on and in-filled. Without it I doubt it's possible for most places to get a secondary network that is as developed as Cambridge's. It's certainly hard to see how you would achieve one in Ely and the surrounding area.
 Is it the right approach?
Should the UK be "going Cambridge" and following the approach of our premier cycling city. It seems to us that the answer is no.
It feels like Cambridge has got as far as it can with it's secondary network, they have increased modal share but these extra cyclists spill out onto the main roads where the infrastructure is almost totally lacking. This ends in the same familiar conflicts which happen across the UK. Motorists in conflict with the cyclists who brave the road and pedestrians in conflict with the cyclists who use the pavements to avoid the busy traffic.
The Cambridge approach sidesteps the difficult issue of re-allocating space on the carriageway. That's campaign-speak for taking road space away from cars and giving it to bikes. It's politically hugely contentious, but it's the unavoidable task if we're to get world class cycling infrastructure in the UK.
Here at the Ely Cycling Campaign we have decided to campaign for a complete network, not just a secondary one. We don't want to spend time, effort and resources getting to where Cambridge is now. We want to tackle the big issue of re-allocating road space head-on. We don't want to take the side street and cut-through route to getting cycling infrastructure we want to use the main roads, metaphorically and literally.
For more information on our approach see our strategy.